Products > Aluminium Crane Systems
finrae light crane systems are recognised for its high quality and reliability world over. In India, some of the largest companies trust finrae rails systems to improve ergonomics and productivity in their material handling tasks. Using finrae system, your specific handling requirements can be met in a quick, precise, and efficient manner.
One of finrae's most unique features to join two rails with innovative Alignment Pins. The Crane profiles come with built-in round pockets for Alignment Pin, which keeps two Crane profiles in perfect alignment during the uses of profiles under load. The Alignment Pins ensure precise and perfect alignment of the crane profiles and provides smooth movement of trolley. This also enhances the life of the rollers.
finrae offers highly advanced and modular crane profiles, which serves as backbone of all the material transfer tasks. Designed for ergonomic and easy operation, finrae crane profiles come with very unique and innovative features.
Find your way to our products
We look forward to your Enquiry.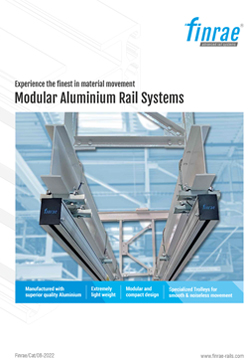 Do you want to know more?